How Proper Signs Can Improve Communication With Customers
How Proper Signs Can Improve Communication With Customers
Signs Facilitate Good Communication With Customers
In any relationship, good communication is everything. That maxim extends to relationships between businesses and their customers. Good signs can help facilitate improved communication with customers, allowing them to relay information about sales and events, boost marketing efforts, and control in-store traffic. Whether it's outside signs or in-store sign stands, stanchion signs or other products, signs are an invaluable tool for businesses.
Sign Effectiveness
Even in today's world of social media, Internet videos, and other forms of electronic marketing and advertising, signs remain a highly effective means of reaching potential customers. According to a survey released by industry experts, half of customer respondents said they learned about a business via their on-premise sign. Of the remaining customers, 33 percent learned about the business via word-of-mouth, 9 percent via newspaper advertisement, 6 percent through the phone directory, 1 percent via television, and 1 percent via radio. Without signs, about 35 percent of customers visiting a business would have never known of its existence.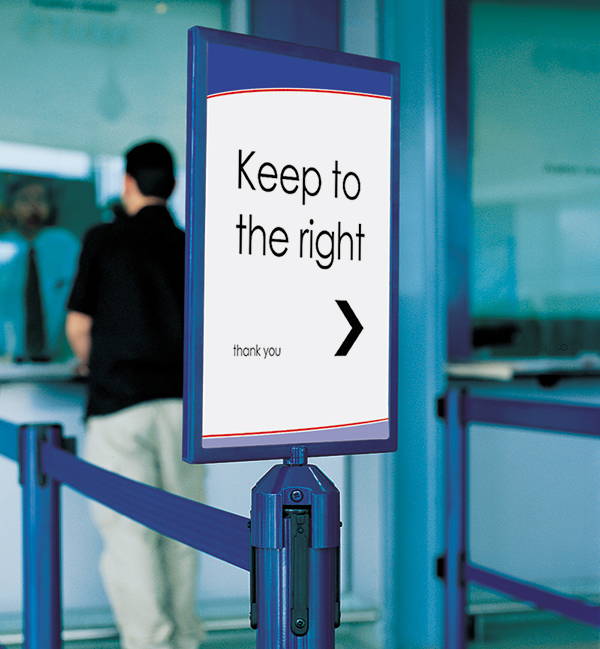 Return-On-Investment
Signs have an excellent return on investment compared to newspaper and television ads. Consider these statistics:
Billboards – A billboard costs about two cents per 1,000 views it receives from passersby.
Newspaper ads – A 300 line ad will cost business owners about $2.81 per 1,000 views it receives.
Television – Television ads are quite expensive. A television ad costs about $9.82 per 1,000 views.
For start-ups and small business owners, signs represent an effective and affordable way to get the word out about their business. Consider all of the drivers and pedestrians who pass your business every day. By not having adequate signage, you pass up on an opportunity to draw a significant number of these consumers to your business. Industry research finds that about 85 percent of most stores' customers live within a five-mile radius of that business. Signs provide a powerful tool to market to your neighbors.
How Signs Can Help
Signs work as a 24/7 salesperson for your business. A good sign can draw customers to your business and reinforce loyalty and goodwill toward your company. Some ways signs can help your business include:
First impressions – Your business sign is often the first impression your business makes on consumers. Take a look at your sign. Does it look dated or old? Is it damaged? Is it the first impression you want to make on consumers? Having an attractive, catchy sign will help draw consumers seeking your services and attract impulse shoppers who may be convinced by the sign that your business is worth checking out.

Just the facts – A business sign can provide consumers with the basic facts they need to know about your company – address, nature of business, hours, etc. It's a good idea to avoid overloading the sign with too much information, however. Signs that are too "busy" can be a turn-off for consumers.

Goodwill and loyalty – Signs that are attractive and well made will earn goodwill from consumers and the public. Because they enjoy your sign and its branding, they'll make your business their go-to for products and services in your industry, even if other competitors offer significant incentives to switch. Good branding is a powerful tool.

In-store signs
Outside signs aren't the only store signs valuable to businesses. Indoor signs can also be helpful in capturing consumer interest and enhancing customer experiences. Good indoor signs that are attractive and clever can help a business engage with consumers, building loyalty to the store and keeping them interested in products. In-store signs can also have the practical benefit of informing shoppers about sales, promotions, and special prices. During large events, temporary signs on sign stands can help to direct shoppers to products and services and help ensure that lines form in an orderly fashion. Disorderly stores are a huge turn-off to consumers. Using stanchion signs and other crowd controlling signs can greatly improve safety and organization in stores during high-turnout events.
To achieve the desired outcome, store signs need to:
Be legible – Letters need to be clear and large enough to read from a reasonable distance. When choosing signs for your business, be sure to have several people look at the sign to make sure it is easy-to-read and user-friendly.
Attractive – Ugly signs will weigh against a business in the minds of consumers. Choosing quality signs with good design values will help ensure your in-store signs make a positive first impression on consumers.
Sturdy – Signs that are easily knocked over or damaged will not be useful and may cause consumers to develop a negative opinion of a business. A store that can't get their signs right can hardly be trusted to get much else right.
Portable – Your store layout will frequently change. Signs that are portable give managers more options to reconfigure the store as needed for maximum effect.
Sign ordinances
Communities throughout the country will have varying rules and regulations regarding outdoor signs. These rules are intended to promote traffic safety or preserve the aesthetic appeal of an area. Depending on where your business is located, signs may be subject to rules regarding their height, width, proximity to the road, number, and coloring. Rules may also govern the placement of electronic billboards and signs, as well as temporary outdoor signs like banners and portable signs. Before purchasing and erecting a sign, business owners should inquire with their local municipal government regarding sign ordinances. Staying in compliance with local outdoor sign ordinances will help business owners avoid conflicts with neighbors, fines and penalties, legal expenses, and the cost of installing and ultimately removing an offending sign.
With good signs, businesses can more effectively market their goods and services, engage and entertain customers and build brand loyalty. Signs from high quality providers like The Crowd Controller can be a great investment for business owners seeking effective, attractive signage and store traffic control products. By working with The Crowd Controller, business owners can develop individualized sign strategies that will help enhance in-store experiences for consumers and boost sales.
Sources:
http://www.signs.com/blog/the-benefits-of-signage-infographic/
http://smallbusiness.chron.com/importance-look-business-signs-44010.html
http://smallbusiness.chron.com/importance-signage-business-3348.html